Special Needs Recreational Riding
Program List
---
Pony 2 Go
Not to be confused with Hypnotherapy and having nothing to do with the Hippopotamus…

Hippotherapy comes form the Greek word "hippos," which means horse. Hippotherapy is a medical treatment for clients with movement dysfunction, through the multi-dimensional movements of the horse.

Hippotherapy is effective because the human anatomy and the equine anatomy are similar. When a person is astride a horse and horse walks, the human pelvis moves just as though the person were walking. Simultaneously, you get movement in three planes - the forward and backward movements, the side to side movements and the rotational and linear forward movements.

When used by specially trained Physical, Occupational and Speech Therapists, equine intervention and Hippotherapy can provide several major benefits to the client:

Improved balance, posture, mobility and function
Enhancement of the circulatory, digestive and respiratory systems
Positive influences to psychological, cognitive, emotional and behavioral functions and communication

Participants respond enthusiastically to this enjoyable learning experience in a safe, natural setting.

Who can use Hippotherapy?

Individuals who can benefit from this medical treatment have a variety of diagnoses.

Common examples include:

Cerebral Palsy
Multiple Sclerosis
Developmental delays
Traumatic Brain Injury
Stroke
Autism
Learning or language disabilities
Trisome Twenty 21

Please keep in mind that Hippotherapy is not appropriate for every situation. Each individual must be evaluated by a specially trained health professional prior to approval for participation.

Hippotherapy sessions are always conducted with a licensed therapist at Stable Movements
Stable Movements provides Therapeutic Riding in addition to Hippotherapy.

Hippotherapy sessions are always conducted with a state licensed therapist at Stable Movements. Therapeutic riding uses equine-oriented activities for the purpose of contributing positively to the cognitive, physical, emotional and social well being of special needs children and adults. It provides benefits in the areas of therapy, education, sport, recreation and leisure.

Hippotherapy...Therapeutic Riding?
Whats the Difference?

Patients receiving Hippotherapy do not typically control the movement of the horse. As the American Hippotherapy Association describes, Hippotherapy takes place in a controlled environment where graded sensory input can elicit appropriate responses from the rider. Specific riding skills are not taught as in Therapeutic Riding. Instead a foundation is established to improve neurological function and sensory processing.

Hippotherapy sessions are always conducted with a licensed therapist at Stable Movements


sign ups for 2015 spring practice and show opens march 2015 complete participation form and SONY please contact Theresa for available days

Stable Movements participated in the Special Olympics NYS Games in 2008, 2009, 2010 and 2011. ,2012 2013, 2014, season .

Sign up for Special Olympic session now! Several events and practice shows are planned so call Theresa at 607.727.7602 or email using the contact us link below for more information.

Congratulations to our Special Olympics Teams. Look for photos.

'08 Congratulations to Keri and Shannon for their medal winning performances at the Special Olympic State Games in Rochester, NY November 4th! Shannon competed in and took 1st place in English Equitation and 3rd place in English Trail. Keri competed in and took 3rd place in Western Equitation and 5th place in Western Trail. Congratulations to you both we are so proud of you!!!!!!!!!!

'09 A few new riders. Congrats to Keri, Ben and Katie for the excellent programs and all the wonderful medals.

'10 Great show by Ben, Keri and all the riders at the state games! Fun was had by all.

'11 Congrats to two of our Special Olympics riders who attended the fall state games!

'12 big wins by Lisa, Carlyne and Keri who attended the fall games

13' GREAT PROGRAM AT STABLE THIS YEAR NO FALL STATE GAMES DUE TO SONY BUDGET RESTRAINTS.



SOLDIERS AND SADDLES

STABLE MOVEMENTS HAS TEAMED UP WITH THE southern tier VETERANS SUPPORT GROUP (www.stvsg.com) AND THE VETERANS ASSOCIATION TO INITIATE THE PROGRAM FOR OUR VETERANS.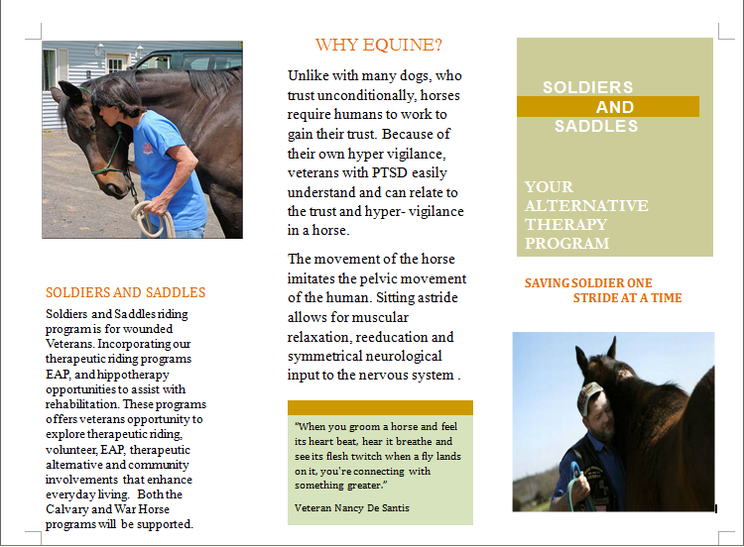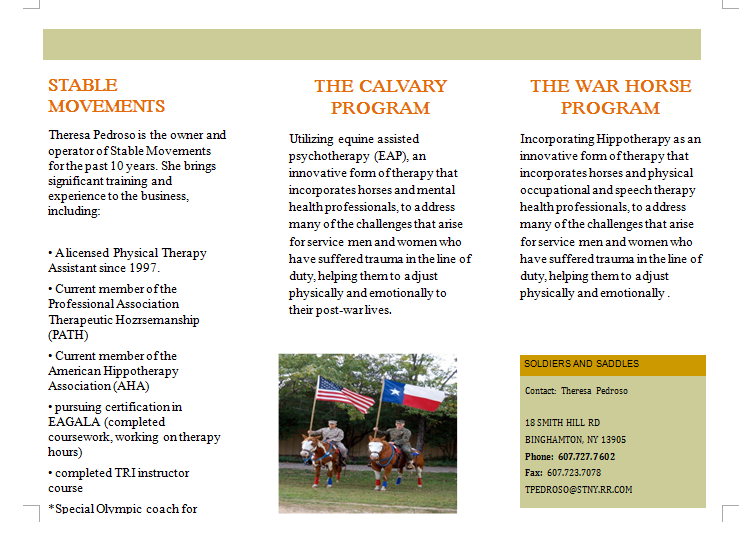 PONYS 2 GO
Stable Movements, IS OFFERING THE UNIQUE OPPORTUNITY IN OUR AREA TO HAVE PONIES AT YOUR NEXT BIRTHDAY PARTY, GRADUATIONS, OFFICE PARTY, HOLIDAY CELEBRATION, PICNIC OR ANY SPECIAL EVENT WHERE YOU WANT TO HAVE EXTRAORDINARY FUN .
DURING YOUR CELEBRATION THE PONYS AND CART WILL BE AVAIABLE FOR 1 1/2 HOURS
. DURING THAT TIME THERE IS OPPORTUNITY FOR CART RIDING, HORSE PETTING AND GROOMING, FEEDING.
FOR AVAILABLE TIME SLOTS AND PRICING CALL THERESA AT 607 727 7602 or EMAIL
stablemovements@gmail.com
.
Stable Movements ,18 Smith Hill Rd, Binghamton, NY 13905
Visit us on face book and at www..ponys2
_
go.com
special weeks offered, Limited spots
Please download the form below and bring it to the facility or email it to Stablemovements@gmail.com, mail to 18 smith hill rd binghamton, ny 13905

Download=> Summer and Saddles Camp REgistration


FOR 2015 get signed up asap spot filling up fast.

Recreational special needs riding
Offering a recreational opportunity to the special needs individuals in our community. Call Theresa at number below for available times and costs

18 SMITH HILL RD BINGHAMTON NEW YORK 13905 607 727 7602 stablemovements@gmail.com